Rani Lakshmibai 187th Birth Anniversary: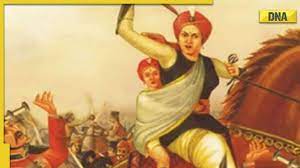 Prime Minister, Shri Narendra Modi paid tributes to Rani Lakshmibai, the Jhansi queen known for her role in the 1857 Mutiny, on her 187th birth anniversary.
Rani Lakshmibai, one of the warriors of India's struggle for Independence, was born as Manikarnika Tambe in Varanasi.
Lakshmibai got married to Gangadhar Rao Newalkar, the Maharaja of Jhansi and got the name of Rani Lakshmibai.
Then Lakshmibai and Gangadhar Rao adopted Rao's cousin's son, Anand Rao, who was later renamed as Damodar. Soon after they adopted Anand, Maharaja died due to an illness.
The East India Company took advantage of the Maharaja's death and applied the Doctrine of Lapse.
Doctrine of Lapse was an annexation policy followed widely by Lord Dalhousie when he was India's Governor-General from 1848 to 1856.
According to this, any princely state under the direct or indirect (as a vassal) control of the East India Company where the ruler did not have a legal male heir would be annexed by the company
As per this, any adopted son of the Indian ruler could not be proclaimed as heir to the kingdom. This challenged the Indian ruler's long-held authority to appoint an heir of their choice.
So, due to the Doctrine of Lapse, Britishers did not accept Damodar Rao as the legal heir. The plan of the Britishers was to annex Jhansi.
They seized the state jewels, granted her an annual pension of Rs 60,000 and asked her to leave the fort forever.