The Mediation Act, 2023: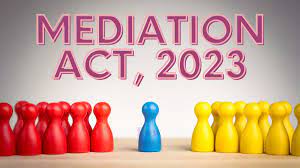 The Parliament has passed the Mediation Bill 2023.
Mediation is a voluntary process in which parties try to settle disputes with the assistance of an independent third person (the mediator).
A mediator does not impose a solution on the parties but creates a conducive environment in which they can resolve their dispute.
The mediation process depends on the choice of parties, and there are no strict or binding rules of procedure.
Types of Mediation:
Court Referred Mediation:
Salem Advocate Bar Association, Tamil Nadu v. Union of India: In the case, Supreme Court held in reference to the matter of mediation that conciliation and arbitration are mandatory for court matters.
This judgment has granted legal and social recognition to mediation as a dispute resolution in India.
Private Mediation :
In private mediation, a qualified mediator is appointed by the parties on a fixed-fee basis. Both the parties come together to resolve the issue amicably.
The decision of the mediator is not ultimate and hence not binding on the parties.