Rashtriya Gram Swaraj Abhiyan: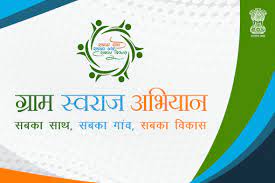 The Cabinet Committee on Economic Affairs has approved continuation of the revamped Centrally Sponsored Scheme of Rashtriya Gram Swaraj Abhiyan (RGSA) for implementation during the period from 1st April 2022 to 31st March 2026 .
The scheme is now co-terminus with the 15th Finance Commission period.
The scheme is aimed to develop governance capabilities of Panchayati Raj Institutions (PRIs).
Rashtriya Gram Swaraj Abhiyan (RGSA):
The scheme was first approved by the Cabinet in 2018 for implementation from 2018-19 to 2021-22.
Implementing Agency: Ministry of Panchayati Raj.
The main Central Components were Incentivisation of Panchayats and Mission Mode Project on e-Panchayat including other activities at Central level.
The State component primarily includes Capacity Building & Training (CB&T) activities, institutional mechanisms for CB&T along with other activities at a limited scale.
It envisaged developing governance capabilities of Panchayati Raj Institutions (PRIs) to deliver on the Sustainable Development Goals (SDGs).
The key principles of SDGs, i.e. leaving no one behind, reaching the farthest first and universal coverage, along with gender equality will be embedded in the design of all capacity building interventions including training, training modules and materials.
The revamped RGSA will comprise Central and State components.
The Central Components of the scheme will be fully funded by the Government of India.
The funding pattern for State Components will be in the ratio of 60:40 among Centre and States respectively, except NE, Hilly States and Union Territory (UT) of J&K where Central and State share will be 90:10.
However, for other UTs, Central share will be 100%.
It is an effort in the direction of achieving "Sabka Sath, Sabka Gaon, Sabka Vikas"