Today Current Affairs: 13th April 2021 for UPSC IAS exams, State PSC exams, SSC CGL, State SSC, RRB, Railways, Banking Exam & IBPS, etc
Remdesivir :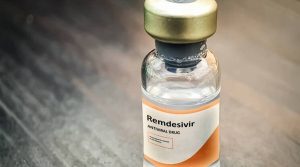 Remdesivir is an injectable anti-virus. It is injected to prevent replication of the virus.
The Remdesivir was created in 2014.
It was manufactured on large scale to treat Ebola. Later it was used to treat SARS and MERS.
Recently, after the COVID-19 crisis, it has been repurposed for COVID-19 treatment
The shortage of Remdesivir is increasing day by day mainly because of rising COVID-19 cases.
It is also increasing due to manufacturing and supply issues.
Madhya Pradesh complained that it has received only half of its requirements.
Around 70% of the total production of Remdesivir in the country is diverted to Maharashtra.
COVID-19 infections began rising exponentially after the double mutant variety started spreading in the country.
This began around February 2021.
However, the manufacturing resumed only by the end of March 2021.
This is mainly because Remdesivir requires twenty-five different raw materials in its production.
The supply chain in India was not strong enough to collect all the raw materials in a short span of time.
The cycle from production to transportation of Remdesivir takes 20-25 days.
Thus, the supply chain of the country must strengthen more to avoid similar crises in the future.
The Global Food Policy Report 2021: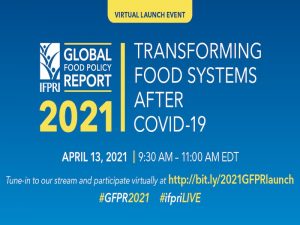 The Global Food Policy Report is published by the International Food Policy Research Institute. This year the institute has released the report based on the theme "Transforming Food Systems After COVID-19".
The midday meal program of India that covers 80% of primary school age children in the country was affected due to the COVID-19 lockdown.
The school closures are likely to exacerbate nutrition and food insecurity in the country especially in girls and disadvantaged populations.
50% of households in India reported that women spent more time fetching firewood and water in comparison with the previous year.
Efforts of India to incorporate migrant workers into social protection programs were a huge success.
Around 80 million hectares of land in India have been classified as commons.
This included forests, water bodies, and pastures.
The Commons provides a source of livelihood for more than 350 million people in the country. They are dependent on these areas for their forest products and fodder.
DGFT 'Trade Facilitation' Mobile App: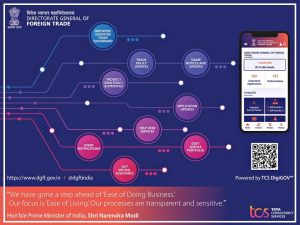 Union Commerce & Industry Minister launched DGFT 'Trade Facilitation' Mobile App for promoting ease of doing business and providing quick access to information to importers/exporters.
It has been developed by the Tata Consultancy Services (TCS), as per the directions of the Directorate General of Foreign Trade (DGFT).
Trade facilitation App is READY for Industry 4.0, as it provides

Real-time trade policy updates, notifications, application status alert, tracking help requests
Explore item-wise Export-Import policy & statistics, Track IEC Portfolio
AI-based 24*7 assistance for trade queries
DGFT services made accessible to all
Your Trade Dashboard accessible anytime &anywhere
Exercise Shantir Ogroshena: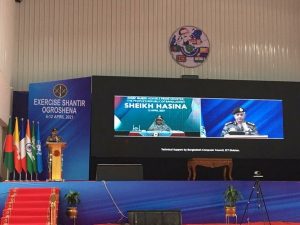 =
Multinational military exercise Shantir Ogroshena, which went for 10 days in Bangladesh, concluded on 12th April 2021.
The year 2021 marks the 50th anniversary of diplomatic relations between India and Bangladesh.
The exercise was organised to commemorate the birth centenary of Bangabandhu Sheikh Mujibur Rahman, Bangladesh's Father of the Nation and celebrate the golden jubilee of the liberation of Bangladesh.
It was held at Bangabandhu Senanibas (BBS), Bangladesh.
Shantir Ogroshena' 2021 means "Front Runner of the Peace".
The theme of this exercise was to strengthen defence ties and enhance interoperability amongst neighbourhood countries to ensure effective peacekeeping operations.
It was a UN (United Nations)- mandated counterterrorism exercise.
Countries that Participated:
Troops from India, Bangladesh, Bhutan and Sri Lanka participated in the exercise with observers from the USA, UK, Russia, Turkey, Saudi Arabia, Kuwait and Singapore.
Danube Sturgeon: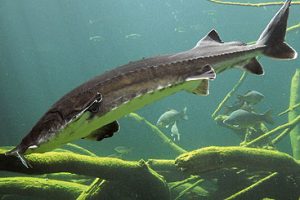 According to a report released by the World Wildlife Fund (WWF), the illegal sale of Danube Sturgeon, one of the most endangered species in the world, is rampant in the lower Danube (River) region, especially in Bulgaria, Romania, Serbia, and Ukraine.
The Danube is the second-longest river in Europe after the Volga. It rises in the Black Forest mountains of western Germany and flows for some 2,850 km to its mouth on the Black Sea.
Sturgeons have existed since the time of dinosaurs, for about 200 million years. Some of the species can grow up to eight metre in length and live more than a century.
They are called 'living fossils' because their appearance has altered very little over the years.
Living Fossil is an organism that has remained unchanged from earlier geologic times and whose close relatives are usually extinct.
Other than Sturgeons, Horseshoe crab and ginkgo trees are examples of living fossils.
Because the sturgeons live for so many years, mature late and spawn with long intervals, they take a long time to recover from environmental and human pressures, according to WWF. This makes them great indicators for the health of the river and other ecological parameters.
There are 27 species of sturgeons and paddlefishes distributed across the Northern hemisphere. While some species inhabit only freshwater, most species are anadromous, spawning in freshwater but spending much of their life history in marine or brackish environments.
Danube sturgeons live mostly in the Black Sea, migrating up the Danube and other major rivers to spawn.
Threats:
Over-exploitation and poaching (exacerbated by poor fishery management and insufficient legal enforcement of fishing bans).
Blocked migration routes through dams.
Loss or degradation of habitats.
Pollution.
Protection Status:
IUCN Red list: There are 6 species of sturgeon in the Danube River. Five of them are now listed as critically endangered.
CITES: Appendix-II.
About World Wildlife Fund for Nature:
It is the world's leading conservation organization and works in more than 100 countries.
It was established in 1961 and is headquartered in Gland, Switzerland.
Mission: To conserve nature and reduce the most pressing threats to the diversity of life on Earth
Second Phase Of The National Supercomputing Mission (NSM):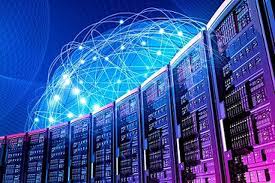 The second phase of the National Supercomputing Mission (NSM) will be completed by September 2021, taking India's total computational capacity to 16 Petaflops.
About the National Supercomputing Mission (NSM):
NSM was announced in 2015, with an aim to connect national academic and R&D institutions with a grid of more than 70 high-performance computing facilities at an estimated cost of Rs. 4,500 crores over the period of seven years by 2022.
It supports the government's vision of 'Digital India' and 'Make in India'.
Implementation: NSM is jointly steered by the Ministry of Electronics and IT (MeitY) and Department of Science and Technology (DST – Ministry of Science and Technology) and implemented by the Centre for Development of Advanced Computing (C-DAC), Pune and the Indian Institute of Science (IISc), Bengaluru.
Features:

It is also an effort to improve the number of supercomputers owned by India.
These supercomputers will also be networked on the National Supercomputing grid over the National Knowledge Network (NKN). The NKN connects academic institutions and R&D labs over a high-speed network.
Under NSM, the long-term plan is to build a strong base of 20,000 skilled persons over the next five years who will be equipped to handle the complexities of supercomputers.
In the first phase, PARAM Shivay, PARAM Shakti, PARAM Brahma, PARAM Yukti and PARAM Sanganak were deployed at IIT (BHU), IIT Kharagpur, Indian Institute of Science Education and Research, Pune, and Jawaharlal Nehru Centre for Advanced Research.
Recently, PARAM-Siddhi AI, has been ranked 63rd in the Top 500 list of most powerful supercomputers in the world. It was developed under the NSM.
In October 2020, C-DAC had inked MoUs with IITs along with IISc, National Agri-Food Biotechnology Institute and NIT, Tiruchirapalli — where a High Power Computing (HPC) system in each institute is currently being installed.
So far, over 4,500 people have been trained in HPC and further training in Artificial Intelligence will be held at special NSM nodal centers established at four IITs — Kharagpur, Madras, Goa and Palakkad.
Sushil Chandra: Chief Election Commissioner (CEC)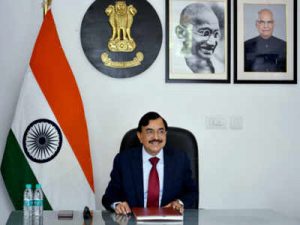 The President appointed Election Commissioner Sushil Chandra as the Chief Election Commissioner (CEC).
He replaces Sunil Arora who has retired.
About the Election Commission of India:
The Election Commission of India (ECI) is an autonomous constitutional authority responsible for administering Union and State election processes in India.
It was established in accordance with the Constitution on 25th January 1950 (celebrated as national voters' day).
The secretariat of the commission is located in New Delhi.
The body administers elections to the Lok Sabha, Rajya Sabha, and State Legislative Assemblies in India, and the offices of the President and Vice President in the country.
It is not concerned with the elections to panchayats and municipalities in the states.
For this, the Constitution of India provides for a separate State Election Commission.
India Kazakhstan Bilateral Talk: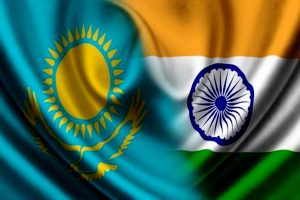 The Defence Minister of India held bilateral talks with the Defence Minister of the Republic of Kazakhstan in New Delhi.
The two Ministers had last met in Moscow (Russia) in September 2020 on the sidelines of the Shanghai Cooperation Organisation (SCO) Defence Ministers' meeting.
Highlights of the Talks:
Agreed that both sides must look at the possibility of defence industrial collaboration of mutual interest.
Exchanged views to further strengthen bilateral defence cooperation, including through training, defence exercises and capacity building.
Kazakhstan thanked India for the opportunity given to the Kazakh troops for deployment as part of the Indian battalion in the United Nations Interim Force in Lebanon (UNIFIL).
UNIFIL was established by the UN Security Council in 1978 to confirm Israeli withdrawal from Lebanon, restore international peace and security and assist the Lebanese Government in restoring its effective authority in the area.
Assessed the annual joint military exercise KAZIND.
The India Energy Dashboards Version 2.0::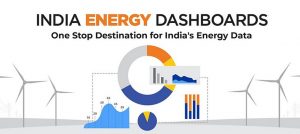 The India Energy Dashboards Version 2.0 was launched by NITI Aayog.
India Energy Dashboards (IED) is an endeavour to provide single-window access to the energy data for the country.
Energy data published/provided by Central Electricity Authority, Coal Controller's Organisation, and Ministry of Petroleum and Natural Gas is compiled in the Dashboards.
NITI Aayog launched Version 1.0 in May 2017.
The key features of the enhanced version, India Energy Dashboards Version 2.0, are –
The IED provides time-series data from FY 2005-06 until FY 2019-20;
Enhanced data download – It enables easy downloading of data into convenient spreadsheet formats in a cleaner, more intuitive way;
IED provides data at sub-yearly frequencies as well. This includes monthly data and API linked data from some portals maintained by the government agencies.
The monthly data is sourced from the monthly reports that are regularly published for the electricity, petroleum and natural gas sectors.
API linked data from Saubhagya, UJALA, PRAAPTI, and Vidyut PRAVAH has been incorporated in the portal.
Aahaar Kranti :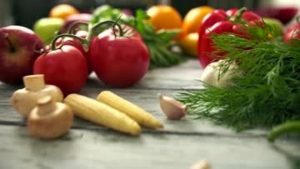 Union Health Minister, Dr Harsh Vardhan will launch a new mission called `Aahaar Kranti'.
The mission is aimed to spread the message of the need for a nutritionally balanced diet and to understand the importance of accessible to all local fruits and vegetables.
Vijnana Bharati (Vibha) and Global Indian Scientists' and Technocrats' Forum (GIST) have come together to launch the mission with the motto of 'Good Diet-Good Cognition'.
The `Aahaar Kranti' movement is designed to address the problem of `hunger and diseases in abundance'.
Union Ministry of Science and Technology's Council of Scientific and Industrial Research (CSIR)'s Pravasi Bharatiya Academic and Scientific Sampark (Prabhaas) is collaborating, and various central and state government ministries and agencies are involved.
The programme will focus on training teachers, who, in turn, will pass on the message to the multitudes of students, and through them to their families and finally the society at large. Such a strategy was adopted for the eradication of Polio and it turned out to be a grand success.
Studies estimate that India produces as much as two times the amount of calories that it consumes.
However, many in the country are still malnourished.
The root cause of this strange phenomenon is a lack of nutritional awareness in all sections of our society.
The United Nations has also declared 2021 as the International Year of Fruits and Vegetables, which vibes very well with Aahaar Kranti. Fruits and vegetables make a large part of a balanced diet.
Further, UN sustainable goal # 3 emphasizes human well-being reads, "Ensure healthy lives and promote well-being for all at all ages."
This goal too makes Aahaar Kranti more meaningful. Diet and well-being are inseparable partners.
Sputnik V: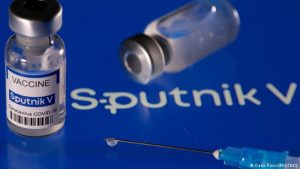 Russia's COVID-19 vaccine — Sputnik V — has been recommended for emergency use authorization in India following a meeting of the Subject Expert Committee (SEC).
If approved by the Drug Controller General of India (DCGI), Sputnik V would be the third vaccine to be made available in India after the Serum Institute of India's Covishield and Bharat Biotech's Covaxin.
Sputnik V, developed by Russia's Gamaleya Research Institute of Epidemiology and Microbiology, claims to be one of the three vaccines in the world with an efficacy of over 90%.
the vaccine supplies for the global market will be produced by the Russian Direct Investment Fund (RDIF) international partners in India, Brazil, China, South Korea, and other countries.