River Ranching Programme: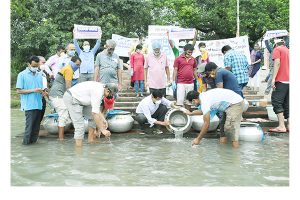 Over 10,000 fish fingerlings of Indian major carps — catla, rohu and mrigal — were released in the Ganga at Sangam nose under the ranching programme organised by ICAR-Central Inland Fisheries Research Institute (CIFRI), Prayagraj, recently.
The exercise has been undertaken for conservation and promotion of fish species that are becoming extinct in the Ganga.
Nationwide River Ranching Programme was launched in Uttar Pradesh in 2021.
River Ranching is a form of aquaculture in which a population of a fish species (such as salmon) is held in captivity for the first stage of their lives.
They are then released, and later harvested as adults when they return from the sea to their freshwater birthplace to spawn.
River ranching programme was introduced as special activity under the 'Pradhan Mantri Matsya Sampada Yojana (PMMSY) scheme to augment and enhance fish production and productivity by expanding, intensifying, diversifying and utilizing land & water productively.
National Fisheries Development Board, Hyderabad is the nodal agency under central component of the PMMSY.