River Ranching Programme: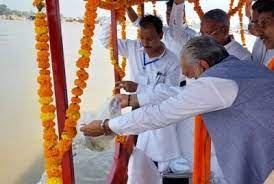 Nationwide River Ranching Programme was recently launched in Uttar Pradesh.
Along with Uttar Pradesh, other 4 states namely, Orissa, Uttarakhand, Tripura and Chhattisgarh also participated in the launch of 'nationwide River Ranching program'.
3 lakhs fingerlings were ranched at 3 sites in UP, namely, Brijghat, Tigri, Meerut, Garhmukteshwar and Bijnor.
River Ranching is a form of aquaculture in which a population of a fish species (such as salmon) is held in captivity for the first stage of their lives.
They are then released, and later harvested as adults when they return from the sea to their freshwater birthplace to spawn.
About the Programme:
River ranching programme was introduced as special activity under the 'Pradhan Mantri Matsya Sampada Yojana (PMMSY) scheme to augment and enhance fish production and productivity by expanding, intensifying, diversifying and utilizing land & water productively.
National Fisheries Development Board, Hyderabad is the nodal agency under central component of the PMMSY