'Dying Declaration':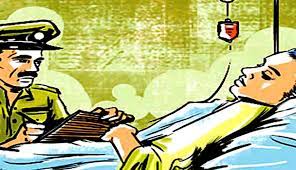 A special CBI court on July 16 convicted two policemen and awarded them life sentences for the custodial death of a murder accused, who was burnt alive inside a police station in Karnal.
The judgment relied heavily on the 'dying declaration' made by the victim prior to his death.
The law presumes that no person will meet their maker with a lie in their mouth. So Section 32 of the Indian Evidence Act, 1872 deals with cases in which statement of relevant fact is made by a person who is dead or cannot be found.
The general rule under Section 60 of the Act is that all oral evidence must be direct — he heard it, saw it or perceived it.
The grounds of admission under a dying declaration have been based on two broad rules —

one, the victim being generally the only principal eye-witness to the crime; and
two, the sense of impending death, which creates a sanction equal to the obligation of an oath.