Rooftop Solar Scheme: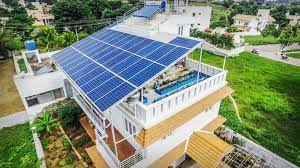 The Union Power & NRE Minister announced that 3377 MW capacity has been allocated to States under the ROOFTOP SOLAR SCHEME.
ROOFTOP SOLAR SCHEME is under the Ministry of New and Renewable Energy (MNRE).
The ministry has announced Phase II of the scheme.
Under Rooftop Solar Programme Phase-II :
A Central Financial Assistance (CFA) of up to 40% of the benchmark cost is provided for the installation of Rooftop Solar (RTS) projects upto 3 kW capacity and 20% for capacity beyond 3 kW and upto 10 kW for individual households in the residential sector
For Group Housing Societies/Residential Welfare Associations (GHS/RWA), CFA is limited to 20% of the benchmark cost for installation of an RTS plant of capacity up to 500 kW for the supply of power to common facilities.