A Future For All – The Need For Human-Wildlife Coexistence: WWF And UNEP Report: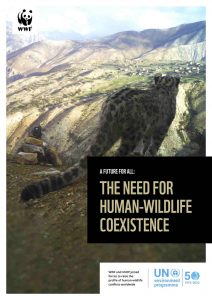 A report titled, A future for all – the need for human-wildlife coexistence, was recently released by the World Wide Fund for Nature (WWF) and the UN Environment Programme (UNEP).
Highlights of the Report:
Conflict between humans and animals is one of the main threats to the long-term survival of some of the world's most iconic species.
Globally, conflict-related killing affects more than 75 per cent of the world's wild cat species. It also affects polar bears and Mediterranean monk seals as well as large herbivores such as elephants.
Global wildlife populations have fallen an average of 68 per cent since 1970.
Indian scenario:
Over 500 elephants were killed between 2014-2015 and 2018-2019, mostly due to human-elephant conflict.
During the same period, 2,361 people were killed as a result of conflict with elephants.
India will be most-affected by human-wildlife conflict because it had the world's second-largest human population as well as large populations of tigers, Asian elephants, one-horned rhinos, Asiatic lions and other species.