Mullaperiyar Dam Issue: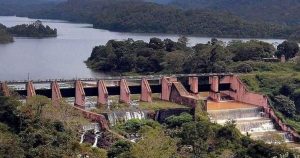 The Supreme Court said the Tamil Nadu Chief Secretary will be "personally responsible" and "appropriate action" will be taken on failure to give information on the 'rule curve' for the Mullaperiyar dam to the Supreme Court-appointed Supervisory Committee.
The 'rule curve' in a dam decides the fluctuating storage levels in a reservoir.
The gate opening schedule of a dam is based on the 'rule curve'.
It is part of the "core safety" mechanism in a dam.
Mullaperiyar Dam:
Mullaperiyar Dam is a masonry gravity dam built at the confluence of Mullayar and Periyar rivers.
The dam is located in Kerala but is operated and maintained by the neighboring state of Tamil Nadu.
It was constructed between 1887 and 1895 by John Pennycuick and also reached an agreement to divert water eastwards to the Madras Presidency area (present-day Tamil Nadu).