Inter-Parliamentary Union (IPU):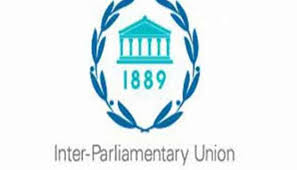 The President of the Inter-Parliamentary Union (IPU) addressed Members of Parliament at the Central Hall of the Indian Parliament.
IPU is an international organization of national parliaments.
It was established in 1889 in Paris.
It was founded by statesmen Frédéric Passy of France and William Randal Cremer of the United Kingdom.
It works with close co-operation with the United Nations (UN), regional parliamentary organizations, international intergovernmental organizations, and non-governmental organizations for the arbitration of conflict.
It is a unique platform for observing political opinions and trends around the world.
Aim:
To promote parliamentary dialogue worldwide and works for peace and cooperation among the peoples.
To promote democratic governance, accountability, and cooperation among its members.
Slogan: For democracy. For everyone
Functions: Promoting parliamentary action by addressing international concerns in six main areas:
Representative democracy.
Peace and security.
Sustainable development.
Human rights and humanitarian law.
Women in politics.
Education, science, and culture.
Members:
179 countries are members of the IPU.
13 regional parliamentary assemblies are associate members.
India is a member.
Headquarters: