Rule Of Law Index 2022: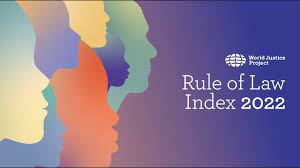 The report is a compilation of the 'rule of law' status across 140 countries worldwide.
It was released by an international civil society organisation, World Justice Project (WJP).
According to the report, the rule of law has declined globally for the fifth consecutive year.
It says that the checks on executive power are weakening, and respect for human rights is falling.
The top-ranked country in the WJP Rule of Law Index 2022 is Denmark, followed by Norway (2), Finland (3), Sweden (4), and the Netherlands (5).
The bottom ranked countries are Venezuela (140), Cambodia (139), Afghanistan (138), the Democratic Republic of Congo (137), and Haiti (136).
India has been ranked 77 out of 140 countries with a score of50 on the 'rule of law index'.
Globally, India ranks 94 out of 140 as far as adherence to fundamental rights are concerned, 111 out of 140 in civil justice, 89 out of 140 in criminal justice and 93 out of 140 in absence of corruption.
Bangladesh scored 0.39 in the 127th rank, Pakistan settled with a 0.39 score at the 129th rank, and China scored 0.47 in the 95th rank.
Notably, Nepal has performed better than its neighbours, with a 0.52 score and 69th rank.
Rule of Law:
The World Justice Project defines the rule of law as a durable system of laws, institutions, norms, and community commitment that delivers: accountability, just laws, open government, and accessible justice.