Soul Of Steel Himalayan Challenge: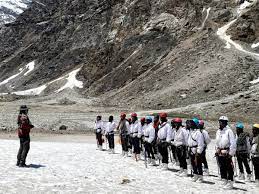 A first-of-its-kind event, the 'Soul of Steel Himalayan Challenge' was recently conducted in the forward areas of the Garhwal Himalayan region.
The challenge supported by the Indian Army in collaboration with Conquer Land Air Water (CLAW) Global was launched by defence minister on January 14 at Dehradun.
The campaign was initiated on the 120th Raising Year of the 9 (Independent) Mountain Brigade.
It was based on the lines of the 'Ironman triathlon', a long-distance triathlon held in Europe which tests an individual's physical capabilities.
The initiative is aimed at enabling life skill training and youth development. It is also expected to boost global promotion of adventure tourism in Uttarakhand.
It was a unique blend of specialised skills, including high altitude mountaineering, extreme cold survival, psychological and physical endurance.
The challenge opened the domain of niche military skills to an average person, who wishes to challenge their physical and psychological limits.
It attracted interest from 1,401 (including 94 women) highly skilled athletes, adventure sports enthusiasts and armed forces aspirants.
These applicants were put through a gruelling two-stage screening process, of which only 23 including two women were finally chosen to undergo a 10-week extensive training in endurance, mountaineering, survival and rescue skills under a joint team of experts from the armed forces and CLAW Global.
The participants were trained to operate beyond the assumed limits of their body, to discover the limitless realms of their mind, consciousness and spirit.
In the final phase of the challenge, 18 'Soul of Steel' warriors set out on a challenge to compete as teams of three along the rugged mountainous terrain of the Garhwals, at an altitude of 17,000 feet and covered a distance of 65 km through glaciers, ice walls, rock faces and snow-capped Himalayan peaks.
The challenge tested their self-sustained mountain climbing, survival, navigation skills, psychological endurance and physical toughness.