Sangathan Se Samriddhi: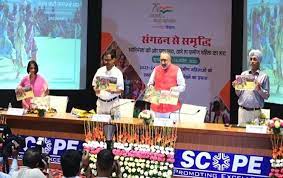 Ministry of Rural Development's Deendayal Antyodaya Yojana-National Rural Livelihoods Mission (DAY-NRLM) launched "Sangathan Se Samridhhi– Leaving no Rural Woman Behind".
Campaign is a national campaign under Azadi Ka Amrit Mahotsav Samaveshi Vikaas
Aim is to mobilize 10 crore women from vulnerable and marginalized rural households under the Self-Help Group (SHG) fold.
Currently, 9 crore women already part of the SHG movement
Benefits is sharing by SHG champions, mobilizing eligible women, training new SHG members, reviving defunct SHGs, and opening SHG bank accounts
SHGs are small informal groups of 10-20 individuals, mostly women from similar social and economic backgrounds, who come together to form a group for mutual support and help.
SHGs encourage members to save regularly, and these savings are then pooled to provide loans to members for various purposes such as starting a small business, paying for their children's education or medical expenses, etc.