World Heritage Day 2023: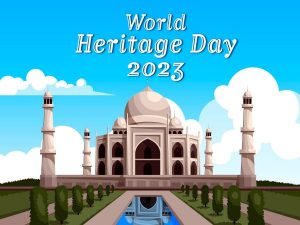 The International Council on Monuments and Sites (ICOMOS) declared April 18th as the International Day for Monuments and Sites, also known as World Heritage Day, in 1982.
The theme for this year is "Heritage Changes," which focuses on the role of cultural heritage in climate action and its importance in protecting vulnerable communities.
India is currently home to 40 UNESCO World Heritage Sites, making it the country with the sixth-largest number of sites in the world.
Out of these, 32 are cultural sites, 7 are natural sites, and one is a mixed-type site, the Khangchendzonga National Park.
The cultural heritage sites in India include ancient temples, forts, palaces, mosques, and archaeological sites that reflect the rich history and diversity of the country.
The natural heritage sites in India include national parks, wildlife reserves, and natural landscapes that showcase the country's unique biodiversity and ecological significance.
The mixed-type site in India, the Khangchendzonga National Park, is known for its cultural significance as well as its biodiversity, as it is home to several rare and endangered species.