International Whale Shark Day: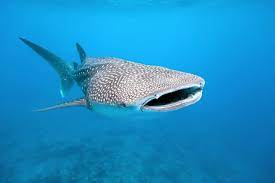 Delhi-based non-profit, Wildlife Trust of India (WTI) launched 'Save the Whale Shark Campaign' along Karnataka, Kerala and Lakshadweep in Mangaluru.
August 30, 2022 is International Whale Shark Day, this year's theme is "The Future of Sharks: Guardians of Our Seas."
The campaign will run along coastal Karnataka, Kerala and the Lakshadweep islands in collaboration with the Forest and Fisheries Departments of Karnataka, Kerala and the Lakshadweep administration.
Further, the campaign aims to reduce accidental entanglements in fishing nets with fishermen releasing whale shark.
A mobile application has been developed to record whale shark spotting and rescues for further conservation action
The whale shark (Rhincodon typus) is the largest fish on Earth and a keystone species in marine ecosystems.
It can grow to a length of approximately 18 metres and weigh as much as 21 tonnes.
They are ovoviviparous – meaning they give birth to live young rather than lay eggs – and can reach sexual maturity at around 10 years old.
Whale sharks are tropical ocean dwellers that feed on fish, squid and other small creatures.
The whale shark is distributed all along the Indian coast.
However, the largest whale shark aggregation is along the Gujarat coast.
Status:

The Wild Life (Protection) Act, 1972: Schedule I
International Union for Conservation of Nature (IUCN) Red List: Endangered.
IUCN Green Status Assessment: Largely Depleted.