Santiniketan : Added To The UNESCO World Heritage Sites List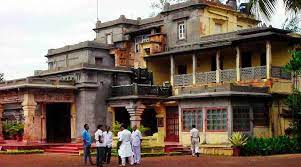 Santiniketan, the home of late Nobel laureate Rabindranath Tagore, has been added to the UNESCO World Heritage Sites list.
Santiniketan is located in the state of West Bengal.
It was established in 1901 by Rabindranath Tagore.
It was a residential school and centre for art based on ancient Indian traditions.
In 1921, a 'world university' was established at Santiniketan, later recognised as 'Visva Bharati'.
Visva-Bharati in Santiniketan is Bengal's only central university whose chancellor is the Prime Minister.
It is distinct from the prevailing British colonial architectural orientations of the early 20th century and of European modernism.
It represents approaches toward pan-Asian modernity, drawing on ancient, medieval and folk traditions from across the region.
UNESCO World Heritage:
A World Heritage Site (WHS) is a landmark or area with legal protection by an international convention administered by UNESCO under the UNESCO World Heritage Convention, established in 1972.
These sites are designated by UNESCO for having cultural, historical, scientific or other forms of significance.