Southeast Asia Cooperation And Training (SEACAT):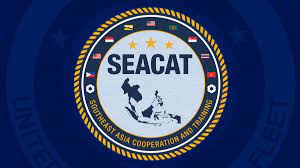 The Indian Navy demonstrated its maritime maneuvers in U.S. Navy-led Southeast Asia Cooperation and Training (SEACAT) military exercise in Singapore.
The military exercise also included navies of 20 other partner nations as well.
The maritime exercise aimed to foster enhanced cooperation between Southeast Asian countries by incorporating tactics, standardized training, and procedures to combat contingencies or illegal activities in the maritime domain.
Notably, the exercise featured a maritime operations center based out of the International Fusion Centre in Singapore, which will serve as a centralised hub for crisis coordination and information sharing of suspicious vessels during the simulation.
SEACAT began in 2002 as "Southeast Asia Cooperation Against Terrorism" and this is the 20th iteration of the exercise.
In 2020, the event was conducted as part of a virtual symposium amid the COVID-19 pandemic.