Connectivity Between India And Southeast Asia: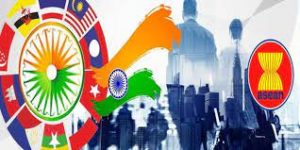 At the virtual ASEAN (Association of Southeast Asian Nations) summit on Future of India-ASEAN Connectivity Partnerships, the Indian government underlined the importance of cross-border connectivity between India and Southeast Asian nations.
ASEAN brings together ten Southeast Asian states – Brunei, Cambodia, Indonesia, Laos, Malaysia, Myanmar, the Philippines, Singapore, Thailand and Vietnam – into one organisation.
Connectivity between India and Southeast Asia:
India currently is working with ASEAN on multiple connectivity projects, through land, water, and air.
Giving substance to ASEAN-India relations through connectivity will gradually change the geopolitical landscape of this region.
In this context, India has now been actively developing infrastructure in Northeastern India.
Bangladesh-China-India-Myanmar (BCIM) Corridor is part of this.
These connectivity projects will not only curb existing insurgencies, but also help India's northeastern states to develop their economic potential and integrate with mainland India.
Further, India-ASEAN Free Trade Agreement (FTA) is central to India's growing engagement with her eastern neighbours.
It will enable small and medium-sized enterprises in the border areas to explore new business opportunities.