Kakhovka Dam: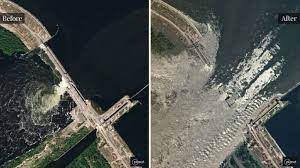 A huge Soviet-era dam on the Dnipro River in southern Ukraine, known as the Kakhovka Dam, was breached, resulting in flooding across the war zone.
The dam was an important part of the Kakhovka hydroelectric power plant, supplying water to the Crimean Peninsula and the Zaporizhzhia nuclear plant.
Crimea is a peninsula in Eastern Europe, on the northern coast of the Black Sea, almost entirely surrounded by the Black Sea and the smaller Sea of Azov.
It came under Russian rule in 2014.