Second Home For Cheetahs : Gandhisagar Wildlife Sanctuary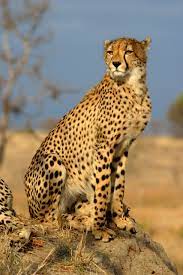 Gandhisagar Wildlife Sanctuary will be developed as a second home for cheetahs in the coming times.
Gandhi Sagar Wildlife Sanctuary is situated in northwestern Madhya Pradesh, with one of its boundaries running along the border of Rajasthan.
The sanctuary was notified in 1974.
Its vast expanse lies within the Mandsaur and Neemuch districts of Madhya Pradesh.
River Chambal flows through the sanctuary, dividing it into two parts.
The principal tree species found in the Gandhi Sagar Wildlife Sanctuary are Khair, Salai, Kardhai, Dhawda, Tendu, Palash and the like.
Herbivores like Chinkara, Nilgai and Spotted Deer, and carnivores like the Indian Leopard, Striped Hyena and Jackal are found in good numbers in the region.
The reservoir also has a good population of crocodiles, fish, otters and turtles.