Karnataka Assembly Passes Anti-Conversion Bill: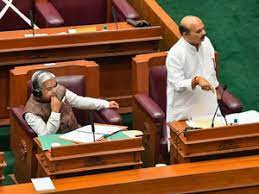 The Karnataka Legislative Assembly passed the Karnataka Protection of Right to Freedom of Religion Bill, 2022, (popularly called the anti-conversion Bill) by voice vote.
Highlights:
Imprisonment: It proposes imprisonment from three to five years with a fine of Rs 25,000
Minors, SC/ST and Women: Any violation of provisions with respect to minors, women, SC/ST, the offenders will face imprisonment from three to ten years and a fine of not less than Rs 50,000.
Compensation: The bill also makes provisions for the accused to pay up to Rs five lakh as compensation to those who were made to convert.
Mass conversion: With regards to cases of mass conversion there shall be a 3 to 10-year jail term and a fine of up to Rs one lakh.
Family court: Any marriage which has happened for the sole purpose of unlawful conversion or vice-versa by the man of one religion with the woman of another, shall be declared null and void by the family court.
Declaration for conversion: Persons who wish to convert to another faith shall give a declaration in a prescribed format at least 30 days in advance to the District Magistrate or the Additional District Magistrate.