National Mission For Cultural Mapping: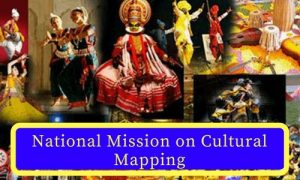 The detailed dossiers of the villages covered under the Mera Gaon Meri Dharohar programme of the National Mission for Cultural Mapping will be made available from May on a web portal
National Mission for Cultural Mapping was launched in 2017 by the Union Ministry of Culture
Aim is to  develop a comprehensive database of art forms, artists and other resources across the country.
The government has identified and documented distinctive features of more than one lakh villages across the country.
In this cultural asset mapping, villages have been broadly divided into seven-eight categories based on mythological ecological, developmental and scholastic importance.
The Culture Ministry had approved a budget of ₹469 crores for the mission in 2017 for a period of three years.
Detailed field surveys were carried out by joint teams of the Culture Ministry and the Common Services Centres (CSC), under the Ministry of Electronics and Information Technology.