Section 144 Of The Code Of Criminal Procedure (CrPC) Of 1973: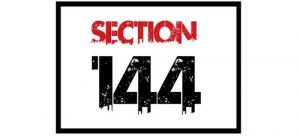 Section 144 of the Code of Criminal Procedure (CrPC) of 1973 has been imposed in Gurugram, owing to the rising number of Covid-19 cases.
Section 144 has often been used to clamp down on telecommunication services and order Internet shutdowns.
About Section 144 CrPC:
This law empowers the magistrate of any state or union territory in India to pass an order prohibiting the gathering of four or more people in a specified area.
It is imposed in urgent cases of nuisance or apprehended danger of some event that has the potential to cause trouble or damage to human life or property.
This order can be passed against a particular individual or general public.
Features of Section 144:
It places restrictions on handling or transporting any kind of weapon in the given jurisdiction. The maximum punishment for such an act is three years.
According to the order under this section, there shall be no movement of the public and all educational institutions shall also remain closed.
Further, there will be a complete bar on holding any kind of public meetings or rallies during the period of operation of this order.
It is deemed a punishable offense to obstruct law enforcement agencies from disbanding an unlawful assembly.
It also empowers the authorities to block internet access in the region.
The ultimate purpose of Section 144 is to maintain peace and order in the areas where trouble could erupt to disrupt regular life.
No order under this section can remain in force for a period of more than 2 months.
Under the state government's discretion, it can choose to extend the validity for two more months with the maximum validity extendable to six months.
Once the situation becomes normal, Section 144 levied can be withdrawn.
Section 144 prohibits the gathering of four or more people in the concerned area, while during curfew people are instructed to stay indoors for a particular period of time. The government puts a complete restriction on traffic as well.