What Is Seafloor Spreading?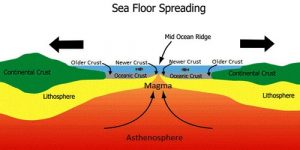 According to a study that analyzed data from the last 19 million years, Seafloor spreading rates have slowed down by roughly 35% globally.
For this study, researchers selected 18 of the world's largest spreading ridges (mid-ocean ridges).
A ridge or a mountain ridge is a geographical feature consisting of a chain of mountains or hills that form a continuous elevated crest for an extended distance.
By studying magnetic records in the rocks on the oceanic crust, they calculated how much oceanic crust had formed over the last 19 million years.
Basalt rocks on the oceanic crust contain magnetic properties.
Their magnetism is influenced by the Earth's magnetic field when the magma reaches the surface and begins cooling to form the crust.
But the records are incomplete because the crusts get destroyed at subduction zones.
Subduction zone is a point where two tectonic plates collide, causing one of them to sink into the Earth's mantle beneath the other plate.
The seafloor spreading hypothesis was proposed by the American geophysicist Harry H. Hess in 1960.
Seafloor spreading is the process of magma welling up in the rift as the old crust pulls itself in opposite directions.
Cold seawater cools the magma, creating a new crust.
The upward movement and eventual cooling of this magma has created high ridges on the ocean floor over millions of years.
However, the seafloor is destroyed in subduction zones, where oceanic crust slides under continents and sinks back into the mantle, and is reforged at seafloor spreading ridges.
The East Pacific Rise is a site of major seafloor spreading in the Ring of Fire.
It is located on the divergent boundary of the Pacific Plate, the Cocos Plate (west of Central America), the Nazca Plate (west of South America), the North-American Plate and the Antarctic Plate.