Section 437 Of The Code Of Criminal Procedure: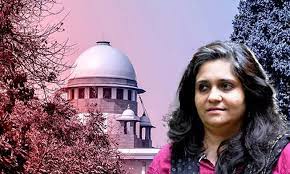 Chief Justice of India, U.U. Lalit, in its order on activist Teesta Setalvad on September 2, made an oral observation that under Section 437 of the Code of Criminal Procedure (CrPC), a woman is entitled to favourable treatment.
He was referring to a provision that says being a woman is a possible ground for granting bail, even when otherwise it cannot be considered.
Section 437 of the CrPC deals with bail in case of non-bailable offences.
It says a person shall not be released on bail if there is reasonable ground to believe that he has committed an offence punishable with death or life imprisonment; or, if he has been previously been convicted for an offence punishable with death, life imprisonment, or for a term of seven years or more; or been convicted on two or more occasions on other offences with a term between three and seven years.
However, it also contains exceptions in a proviso that says the court may grant bail even in these cases, "if such person is under the age of 16 or is a woman or is sick or infirm".
There are several provisions in criminal law that give special consideration to women.
For instance, when a police officer requires the attendance of any person who he believes is acquainted with a case under investigation, the person has to appear before the officer (Section 160).
However, no woman shall be required to do so at any place other than the place in which she resides.