Section 144 Imposed In Telangana: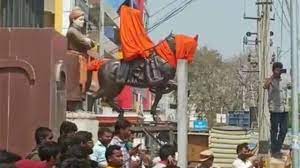 Section 144 has been imposed in Bodhan town in Telangana after protests turned violent over the installation of a statue of Chhatrapati Shivaji at Ambedkar junction in the town by the Shiv Sena and BJP workers.
Section 144 of the Criminal Procedure Code (CrPC) of 1973 generally prohibits public gathering.
It authorises the Executive Magistrate of any state or territory to issue an order to prohibit the assembly of four or more people in an area.
According to the law, every member of such 'unlawful assembly' can be booked for engaging in rioting.
The maximum punishment for such act is three years.
Moreover, obstructing police from breaking up an unlawful assembly is a punishable offence as well.
Section 144 also restricts carrying any sort of weapon in that area where it has been imposed and people can be detained for violating it.
Section 144 is imposed in urgent cases of nuisance or apprehended danger of some event that has the potential to cause trouble or damage to human life or property.
No order under Section 144 shall remain in force for more than two months but the state government can extent the validity for two months and maximum up to six months. It can be withdrawn at any point of time if situation becomes normal.
Section 144 was used for the first time in 1861 by the British Raj, and thereafter became an important tool to stop all nationalist protests during the Freedom Struggle. However, the use of the section in Independent India remains controversial as very little has changed.
Section 144 vs Curfew:
Section 144 is generally prohibitory in nature. It restricts from public gathering, but doesn't bar it all together.
A curfew, on the other hand, orders people to stay indoors for a specific period of time.
So, the authorities can impose curfew for certain period of time.
One also needs a prior approval from the local police for moving out during curfew.