Seethakali: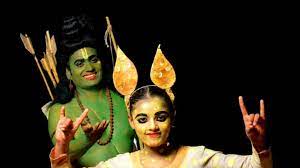 The Perinad Seethakali Sangham member group is all set to perform outside Kerala for the first time.
Seethakali is a unique centuries-old folk art form that is believed to have originated at Perinad in the Kollam district of Kerala.
This art form was first performed some 150 years back by the people of Vedar and Pulayar communities.
Themes : It is based on certain episodes taken from the Indian epic Ramayana.
Mythic characters such as Rama, Seetha, Ravana and Hanuman come alive in Seethakali performances that portray the tale of Seetha's journey, from the time she accompanied Rama to the woods till her ascent to the heavens.
In the early times, Seethakali was performed as part of the harvest festival Onam.
From Atham star till the 28th day after Onam, the performers who belong to the subaltern communities go from one house to another performing this art.
The props and instruments used during performances are all made of natural materials like bamboo and palm leaves.
The costumes and the make-up are loud and eye-catching.
The characters of Rama and Laxmana appear in green since the colour is used to represent gods and goddesses in Kathakali.