INS Tarini: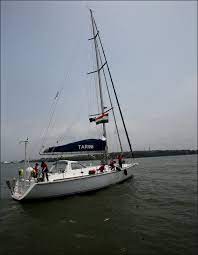 The Indian Navy is all set to receive the six-member crew of INSV Tarini, including 2 women officers at the "flag in" ceremony on May 23 at the Indian Naval Watermanship Training Centre (INWTC), INS Mandovi, Goa.
INSV Tarini is returning home after successfully completing the 17000-nautical miles trans-ocean inter-continental voyage in seven months.
The 'flag in' event will showcase the exemplary valour, courage and perseverance of the crew, especially the two women officers, who participated in the entire expedition.
The two women officers undertook the voyage from Goa to Rio de Janerio via Cape Town and back, spanning over 188 days of sailing on the vessel.
The current sailing expedition of INSV Tarini is part of the run-up towards the Navy's next big project to send a woman to circumnavigate the globe solo.
The officers that participated in this expedition were shortlisted from volunteers after rigorous selection at the Ocean Sailing Node (OSN).
Ocean Sailing Node was established on 24 Aug 2016 with the aim of promoting and undertaking ocean sailing activities and is located at INS Mandovi.