Singareni Thermal Power Plant : First Public Sector Coal-Based Power Generating Station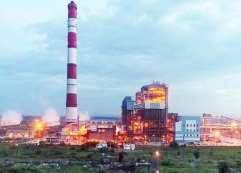 Singareni Thermal Power Plant (STPP) in Telangana is set to become the first public sector coal-based power generating station in the South and first among the State PSUs in the country to have a flu gas desulphurization (FGD) plant.
With 100% utilisation of the fly ash generated, the STPP has won the best fly ash utilisation award twice already
The FGD plant would process the sulphur and other gases (nitrogen oxides) generated in firing the coal for power generation.
The FGD plant removes Sulphur Dioxide from the flue gas before it is released into the atmosphere and hence reduces its impact on the environment.
FGD systems are characterized as either "wet" or "dry" corresponding to the phase in which the flue gas reactions take place.
The Ministry of Environment, Forest and Climate Change (MoEF&CC) has set the deadline for installation of FGD plants for coal-based power plants as December-end of 2026 for non-retiring plants and as December-end of 2027 for retiring plants.
However, it is not made compulsory for the plants that are going to retire by December-end of 2027, provided they seek exemption from the Central Pollution Control Board and Central Electricity Authority.