Respiratory Syncytial Virus: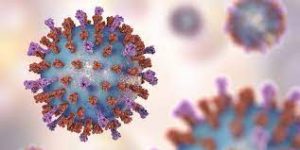 Lower respiratory infection attributable to respiratory syncytial virus (RSV) was responsible for more than 1,00,000 deaths in children under five worldwide in 2019, according to a new estimate published in The Lancet
The study is the first to examine RSV disease burden in narrow age brackets.
According to the report the incidence rate in India is 53 per 1,000 children per year (5.3%) and there were an approximate 61,86, 500 episodes of RSV-associated acute lower respiratory infection in children below five years.
Respiratory syncytial virus (RSV) is also called human respiratory syncytial virus (hRSV) and human orthopneumovirus.
It is a common, contagious virus that causes infections of the respiratory tract.
It is a negative-sense, single-stranded RNA virus, and its name is derived from the large cells known as syncytia that form when infected cells fuse.
RSV is the most common cause of acute lower respiratory infection in young children.
Globally, only 26% RSV-associated deaths occur in a hospital. This is particularly apparent in low- and middle-income countries.