Skill Impact Bond Initiative: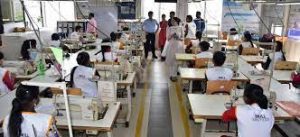 Under the Skill Impact Bond (SIB) initiative, nearly 18,000 first-time job seekers have been skilled, with 72% of them being women
The Skill Impact Bond (SIB) is India's first development impact bond for skilling and employment.
Launched by the National Skill Development Corporation (NSDC) in collaboration with global partners
Aim is To benefit 50,000 young Indians (over 4 years), with a focus on empowering women (60% of beneficiaries)
It is a public-private partnership (PPP) model that emphasizes providing employment opportunities to trainees rather than just issuing training certificates.
The SIB addresses the impact of the pandemic on women and employment, removes barriers to women's workforce retention, and leverages private sector capital and expertise.
It also works towards strengthening India's technical and vocational education ecosystem through knowledge exchange and mainstreaming good practices.