iCET Initiative: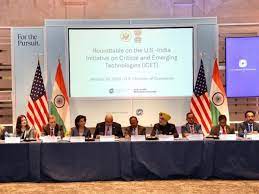 India's National Security Advisor hold talks with the US counterpart on the first dialogue on Initiative for Critical and Emerging Technologies (iCET) in the US.
Completing the work on the long-awaited NASA-ISRO Synthetic Aperture Radar (NISAR) earth observation satellite is an excellent example of how the US-India partnership in space can benefit the world.
The iCET initiative was launched by India and the US in May 2022, and is being run by the National Security Councils of both countries.
Under iCET, the both countries have identified six areas of cooperation which would include co-development and co-production, that would gradually be expanded to QUAD, then to NATO, followed by Europe and the rest of the world.
Under iCET, India is ready to share its core technologies with the US and expects Washington to do the same.
The six areas for cooperation are scientific research and development; quantum and artificial intelligence, defense innovation, space, advanced telecom which would include things like 6G and semiconductors.