India's First International Cruise Vessel MV Empress: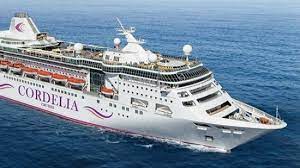 The Union Minister of Ports, Shipping & Waterways and Ayush, flagged off India's first international cruise vessel, MV Empress, from Chennai to Sri Lanka.
This significant event marked the inauguration of the international cruise tourism terminal in Chennai, which is a testament to the government's commitment to enhancing cruise tourism and maritime trade opportunities.
The MV Empress will sail to three Sri Lankan ports: Hanbantota, Trincomalee, and Kankesanturei.
The cruise service is the result of a Memorandum of Understanding (MoU) signed between Chennai Port and M/S Waterways Leisure Tourism Pvt Ltd during the first Incredible India International Cruise Conference in 2022.
The government plans to develop three new international cruise terminals in Andamans, Puducherry, and Lakshadweep, which are expected to be operational by 2024.
The government envisions an increase in the number of cruise ships from 208 in 2023 to 500 in 2030 and up to 1100 by 2047, with the number of passengers rising from 9.5 lakhs in 2030 to 45 lakhs in 2047.