Smart City Conference : Panaji, Goa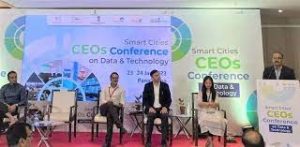 The Ministry of Housing and Urban Affairs recently conducted a two-day Smart city CEO conference at Panaji, Goa.
The conference was co-hosted by a private firm Imagine Panaji Smart City Development Limited (IPSCDL).
CEOs and Municipal commissioners of more than 100 smart cities participated in the conference.
The main objective of the conference was an idea exchange.
The CEOs of different smart cities presented their business plans for developing their cities and making them smart.
The attendees agreed on the fact that today smart city ideas such as electric buses, transport technologies, water management techniques, rain harvesting, and integrated command and control centers have huge revenue generation capabilities.
Smart City Mission:
It was launched by PM Modi in 2015.
It aims to rejuvenate urban areas in the country.
The mission will benefit more than 40% of the Indian population.