Direct Payment Of Minimum Support Price: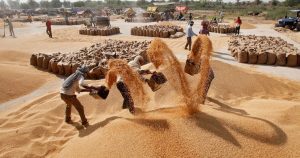 After the recent orders from the Food Corporation of India (FCI), the farm unions warned that the Centre's insistence on direct payment of Minimum Support Price (MSP) could derail the crop procurement process.
The Centre wants to make direct online MSP payment to farmers' bank accounts, to remove middlemen from the process.
MSP is the price that government agencies pay whenever they procure a particular crop.
Currently, arhtiyas (commission agents) get the payments in their accounts, which they, in turn, pay to farmers through cheques.
The Centre has to pay a 2.5% commission to arhtiyas who facilitate procurement of the crop from farmers to government agencies and take a commission for that from the government.
Jamabandhi System:
FCI order stipulates that tenant farmers and sharecroppers must produce a jamabandhi.
Jamabandhi is a legal agreement proving that they have the right to till leased land, in order to get paid for procured crops.
The FCI's also proposed to tighten quality requirements for wheat and paddy procurement.