Goa Liberation Day: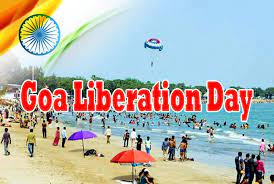 60th Goa Liberation Day was celebrated on 19th December, 2021 in commemoration of the Indian armed forces freeing Goa from Portuguese colonial rule.
Although India attained independence from British rule back in 1947, it would still take Goa – which was a Portuguese colony at the time – 14 more years to be liberated from foreign control. Finally, on December 19, 1961, Indian armed personnel managed to wrest control of Goa from the Portuguese, ending around 450 years of colonial rule.
About Operation Vijay:
Portuguese were the first ones to colonize parts of India and were the last to leave.
The Portuguese invaded Goa in the year 1510.
Operation Vijay began on December 17, 1961, when the then Prime Minister Jawaharlal Nehru ordered the invasion.
With a force of almost 30,000, the Indian attack overpowered the ill-prepared Portuguese 3,000 member army.
With minimal blood shed, the attack was successful and was carried forward to retrieve the other Portuguese-controlled areas, Daman and Diu.
At this point on December 18, the Portuguese Governor General Vassalo da Silva gave up control of the Union Territory of Goa, Daman and Diu.