Social Audit Of MGNREGA Scheme: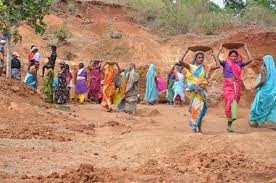 The Mahatma Gandhi National Rural Employment Guarantee Act (MGNREGA), a fundamental component of India's social welfare initiatives, has been marred by persistent concerns regarding a high incidence of corruption.
In the ongoing financial year (2023-24), social audit units flagged misappropriation amounting to ₹27.5 crore under MGNREGA.
After taking corrective actions, this amount reduced to ₹9.5 crore, but only a meager ₹1.31 crore (13.8% of the total) has been recovered.
The recovery rates in previous financial years show a similar trend of inefficiency:
In 2022-23, the recoverable amount was ₹86.2 crore, but only ₹18 crore (20.8% of the total) was recovered.
In 2021-22, ₹171 crore was flagged, yet a mere ₹26 crore (15% of the total) was recovered.
These consistently low recovery rates raise significant concerns about the scheme's effectiveness in combating corruption.
The low recovery rate also jeopardizes the credibility of the entire audit process.
This threatens to undermine public trust in MGNREGA's integrity and purpose.