Cell Broadcast Alert System (CBAS):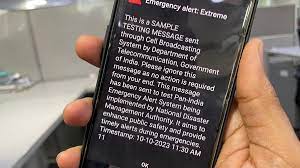 The National Disaster Management Authority's (NDMA) Cell Broadcast Alert System (CBAS) and Google's early earthquake warning system did not effectively reach people during recent seismic events in Delhi and surrounding areas.
CBAS, tested by the NDMA, failed to send alerts in North India, raising concerns about the effectiveness of these early alert systems during seismic events.
NDMA's seismo.gov.in website crashed during the tremors, hindering access to crucial information.
Google's Android Earthquake Early Warning system sent alerts in regions near the India-Nepal border where shaking was stronger, the tremors in Delhi did not trigger alerts due to their lower intensity
NDMA's Cell Broadcast Alert System is a cutting-edge technology enabling the government to send urgent disaster management messages to all mobile devices within a specific geographic area.
Developed by C-DOT under the Department of Telecommunication, it is designed to deliver critical alerts for severe weather warnings, public safety messages, evacuation notices, and other emergency information.
The system was recently tested in collaboration with the Department of Telecommunications, with sample alerts labelled as "SAMPLE TESTING MESSAGE."
National Disaster Management Authority (NDMA) (founded 2005; HQ: New Delhi) is an apex body mandated to lay down policies for disaster management.
It was established through the Disaster Management Act 2005.
It is headed by the Prime Minister.