Predatory Pricing: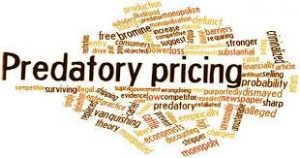 The Competition Commission of India (CCI) has dismissed allegations of predatory pricing against e-commerce platform Shopee arguing that Shopee did not hold significant market power as it is a relatively new entrant in a market with well-established players.
Predatory pricing is the illegal act of setting prices low to attempt to eliminate the competition.
For a business to be engaging in predatory pricing requires that the enterprise be a dominant player in the relevant market, besides establishing that its goods or services are being marketed below cost and that sub-tactics are being used with the intention to eliminate competition.
Predatory pricing violates antitrust laws, as it makes markets more vulnerable to a monopoly.
However, allegations of this practice can be difficult to prosecute because defendants may argue successfully that lowering prices is part of normal competition, rather than a deliberate attempt to undermine the marketplace.
Under the Indian jurisprudence, Predatory pricing is described as 'unfair or discriminatory' pricing, and is forbidden by law under Section 4 of the Competition Act, 2002, which refers to the "Abuse of a Dominant Position".