MGNREGA: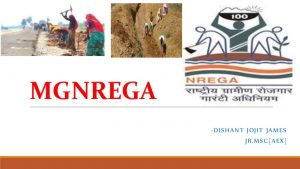 The Centre's flagship rural employment scheme (MGNREGA) has run out of funds halfway through the financial year. This means that payments for MGNREGA workers as well as material costs will be delayed, unless the States dip into their own funds.
Earlier, the government introduced the category-wise wage payment system for SC, ST and others, as made applicable from this current financial year (2021-22), to accurately reflect on the ground flow of funds to various population groups.
MGNREGA Scheme:
The Mahatma Gandhi National Rural Employment Guarantee Act, earlier known as the National Rural Employment Guarantee Act was passed in 2005 to augment employment generation and social security in India.
The scheme is a demand-driven wage employment scheme, which functions under the Ministry of Rural Development.
Every adult member of a household in a rural area with a job card is eligible for a job under the scheme.
The scheme envisages providing 100 days of guaranteed wage employment in a financial year to adult member volunteers for unskilled manual work.
It covers all districts of India except the ones with 100% urban population.
There is also a provision for additional 50 days of unskilled wage employment in drought/natural calamity notified rural areas.
As per Section 3(4) of the MGNREGA, the States may make provisions for providing additional days beyond the period guaranteed under the Act from their own funds.