Sovereign Gold Bond Scheme: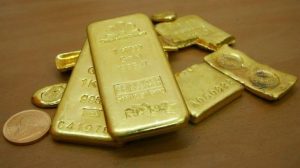 Sovereign Gold Bonds(SGB) 2022-23 (Series II) will be opened for subscription during the period August 22-26, 2022 with a Settlement date of August 30, 2022.
SGB scheme was launched in November 2015 with an objective to reduce the demand for physical gold and shift a part of the domestic savings – used for the purchase of gold – into financial savings.
The Gold Bonds are issued as Government of India Stock under the Government Securities (GS) Act, 2006.
These are issued by the RBI (Reserve Bank of India) on behalf of the Government of India.
The minimum permissible investment limit will be 1 gram of gold, while the maximum limit will be 4 kg for individuals, 4 kg for Hindu Undivided families and 20 kg for trusts and similar entities per fiscal (April-March) notified by the government from time to time.
Bonds are sold through Commercial banks, Stock Holding Corporation of India Limited (SHCIL), designated post offices and recognised stock exchanges vizNational Stock Exchange of India Limited and Bombay Stock Exchange, either directly or through agents.
The bonds are restricted for sale to resident individuals, Hindu Undivided Families (HUFs), trusts, universities and charitable institutions.
The gold bonds come with a maturity period of eight years, with an option to exit the investment after the first five years
Bonds can be used as collateral for loans. The loan-to-value (LTV) ratio is to be set equal to ordinary gold loans mandated by the Reserve Bank from time to time.