World Archery Championship : India's First Ever Gold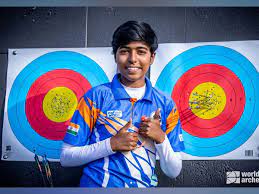 The Prime Minister extended congratulations to the Indian women's compound team comprising Jyothi Surekha Vennam, Parneet Kaur, and Aditi Gopichand Swami, for securing India's inaugural Gold medal at the World Archery Championship in Berlin.
Aditi Gopichand Swami became the youngest-ever senior world champion and the first Indian to win an individual compound gold medal at the World Archery Championships at the age of 17.
World Archery is the international federation for the Olympic and Paralympic sport of archery.
The organization was founded in 1931 and is responsible for regulating and promoting archery around the world.
World Archery is in the Olympic capital of Lausanne, Switzerland.