Sri Lanka's Crisis: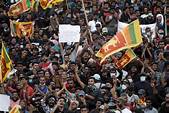 Sri Lanka, a country of 22 million people, is under the grip of an unprecedented economic turmoil, the worst in seven decades, leaving millions struggling to buy food, medicine, fuel and other essentials.
Following the political and economic instability, hundreds of anti-government protesters stormed into the Sri Lankan President's residence demanding his resignation.
When Sri Lanka emerged from a 26-year long civil war in 2009, its post-war GDP growth was reasonably high at 8-9% per annum till 2012.
However, its average GDP growth rate almost halved after 2013 as global commodity prices fell, exports slowed down and imports rose.
Sri Lanka's budget deficits were high during the war and the global financial crisis of 2008 drained its forex reserves which led to the country borrowing a USD2.6 billion loan from the IMF in 2009.
It again approached the IMF in 2016 for another USD1.5 billion loan, however the conditionalities of the IMF further deteriorated Sri Lanka's economic health.
The Easter bomb blasts of April 2019 in churches in Colombo resulting in 253 casualties, consequently, dropped the number of tourists sharply leading to a decline in foreign exchange reserves.
The newly led government by Gotabaya Rajapaksa in 2019 promised lower tax rates and wide-ranging SoPs for farmers during their campaign.
The quick implementation of these ill-advised promises further exacerbated the problem.
The Covid-19 pandemic in 2020 made the bad situation worse –

Exports of tea, rubber, spices and garments suffered.
Tourism arrivals and revenues fell further

Due to a rise in government expenditures, the fiscal deficit exceeded 10% in 2020-21, and the debt to GDP ratio rose from 94% in 2019 to 119% in 2021.
The Crisis in Sri Lanka is triggered due to a shortage of foreign exchange (forex) reserves, which have dropped by 70% over the last two years to just USD 2 billion by the end of February 2022.
Meanwhile, the country has foreign debt obligations of about USD 7 billion for 2022.
Sudden Move to Organic Farming: In 2021, all fertiliser imports were completely banned and it was declared that Sri Lanka would become a 100% organic farming nation overnight.
This overnight shift to organic fertilisers heavily impacted food production.
Consequently, the Sri Lankan President declared an economic emergency to contain rising food prices, a depreciating currency, and rapidly depleting forex reserves.