Second ASEAN Digital Ministers Meeting: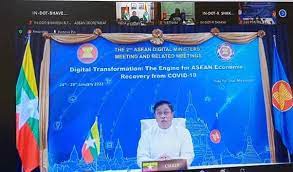 2nd ASEAN Digital Ministers' (ADGMIN) Meeting with India virtually, where two sides finalized India-ASEAN Digital work plan 2022 for future collaboration in the field.
ADGMIN is an annual meeting of telecom ministers of 10 ASEAN (Association of South-East Asian Nations) countries and dialogue partner countries—Australia, Canada, China, EU, India, Japan, Republic of Korea, New Zealand, Russia, UK and US.
ASEAN nations include Brunei, Cambodia, Indonesia, Laos, Malaysia, Myanmar, the Philippines, Singapore, Thailand, and Vietnam.
India and ASEAN nations have jointly approved a work plan under which they will develop a system to combat use of stolen and counterfeit mobile handsets.
Other areas of cooperation include wifi access network interface for nationwide public internet.
Emphasis will also be given on the capacity building and knowledge sharing in emerging areas in the field of information and communication technologies such as Internet of Things (IoT), 5G, advanced satellite communication, cyber forensics.