Rohingya Crisis: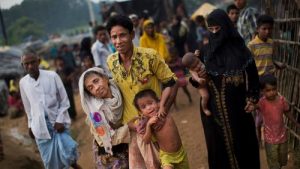 Bangladesh is planning to send more than 80,000 Rohingya refugees to a remote island- Bhasan Char- in the Bay of Bengal after sealing an agreement for the United Nations to provide help.
Some 19,000 of the Muslim refugees from Myanmar have already relocated from crowded camps on the mainland to Bhashan Char island, despite doubts raised by aid groups.
Bhasan Char is an island specifically developed to accommodate 1,00,000 of the 1 million Rohingya who have fled from neighbouring Myanmar.
While human rights groups have criticised the move and some are being forced to go against their will, the government has insisted that refugees moving to the island have done so voluntarily.
Who are Rohingyas?
They are an Ethnic group, mostly Muslims.
They were not granted full citizenship by Myanmar.
They were classified as "resident foreigners or associate citizens".
Ethnically they are much closer to Indo-Aryan people of India and Bangladesh than to the Sino-Tibetans of the Country