Staghorn Coral : Endangered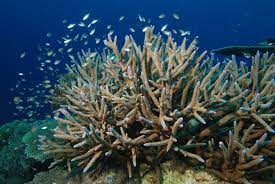 A genome-wide survey of highly endangered staghorn coral in the Caribbean has identified 10 genomic regions associated with resilience against white band disease.
Staghorn coral is one of the most important corals in the Caribbean.
It, along with elkhorn coral and star corals built Caribbean coral reefs over the last 5,000 years.
Staghorn coral can form dense groups called "thickets" in very shallow water.
These provide important habitat for other reef animals, especially fish.
Staghorn coral colonies are golden tan or pale brown with white tips and they get their color from the algae that live within their tissue.
These corals have antler-like branches and typically stem out from a central trunk and angle upward.
Each staghorn coral colony is made up of many individual polyps that grow together.
These coral get food from photosynthetic algae that live inside the coral's cells. They also feed by capturing plankton with their polyps' tentacles.