Subscriber Identification Module (SIM) Card: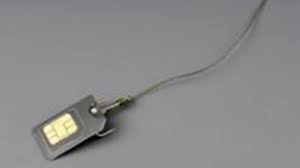 The Subscriber Identification Module (SIM) cards are the ID cards of the cellular world, and they have evolved in step with cellular networks.
Subscriber Identification Module (SIM) card is an integrated circuit, or a microchip, that identifies the subscriber on a given network.
In order for a mobile phone to connect to any cellular network that follows the Global System for Mobile Communications (GSM) standard, a SIM card is mandatory.
This relationship is established using a unique authentication key—a piece of data that a user needs to 'unlock' access to the network.
Every SIM card stores this data, and it is designed such that the user can't access it through their phone.
Instead, signals sent by the phone into the network are 'signed' by the key, and the network uses the signature to understand whether the phone's connection is legitimate.
SIM cards also store information about its own ID number (the integrated circuit card identifier), the IMSI, the subscriber's location area identity (i.e. their current location), a list of preferred networks (to whom the subscriber can connect when roaming), and, emergency numbers.