Road Accident Victims: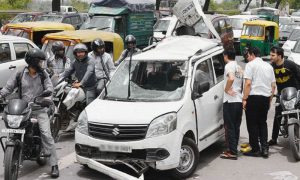 The Supreme Court has held that an extra 40% should be added to the income of deceased road accident victims who are aged below 40 years and are self-employed while calculating compensation.
A three-judge Bench led by Chief Justice of India N.V. Ramana said the additional amount should be included in the income of the dead person as "future prospects".
The judgment is significant as it recognizes self-employment as gainful employment and calls for an increase in the compensation amount accordingly.
Chief Justice Ramana referred to a Constitution Bench decision in National Insurance vs Pranay Sethi, which had "clearly held that in case the deceased is self-employed and below the age of 40, 40% addition would be made to their income as future prospects".
The High Court had earlier held the victim ineligible for future prospects because she was self-employed.