Kanwar Yatra: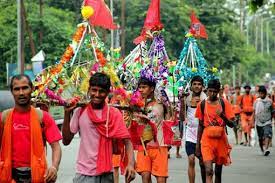 The Supreme Court took suo motu cognizance of a report on the decision by the Uttar Pradesh government to allow Kanwar Yatra this year with certain restrictions, even as the Uttarakhand government had suspended the yatra amid fears of a possible Covid-19 outbreak.
The Kanwar Yatra is a pilgrimage organised in the Hindu calendar month of Shravana (Saavan).
Saffron-clad Shiva devotees generally walk barefoot with pitchers of holy water from the Ganga or other holy rivers. Devotees carry the pitchers of holy water on their shoulders, balanced on decorated slings known as Kanwars.
In the Gangetic plains, the water is taken from pilgrimage sites such as Haridwar, Gaumukh and Gangotri in Uttarakhand, Sultanganj in Bihar, and Prayagraj, Ayodhya or Varanasi from Uttar Pradesh.
The water is used by the pilgrims to worship Shiva lingas at shrines of importance, include the 12 Jyotirlingas, or at certain specific temples such as the Pura Mahadeva and Augharnath Temple in Meerut or even in the devotee's own village or town.
This form of Shiva worship has special significance in the areas around the Ganga. An important festival with similarities to the Kanwar yatra in North India, called the Kavadi festival, is celebrated in Tamil Nadu, in which Lord Muruga is worshipped.